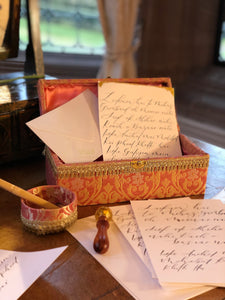 Handcrafted here in the United Kingdom, Shaadi Superstore presents their first ever Heirloom Collection.
Beautifully made to store and hand down your wedding treasures to the generations to come.
This particular box is perfect for storing bridal bangles, Letters or Jewellery.
Each and every box is made bespoke to each and every clients needs.
Embellished with the finest laces and high quality luxury brocade fabric you customise the colour and design of the wooden boxes to suit your preferences. 
Available in a variety of different sizes.
Product Information:
• Rectangular Wooden Box with Brocade and Lace trim 
• Clasp mechanism
• Measures: 9.5 x 17.5 x 5.5cm
Other items in the Heirloom collection include Thaals, Trunks, Jewellery Boxes, Sindoor boxes and more. 
Please note the brocade fabric design may vary as may the trims as these are made to order items and subject to availability. A confirmation email will be sent once order has been placed to confirm design details approximate dispatch dates. Please note made to order items have a lead time of up to 12 weeks, the exact time frame will be confirmed via a follow up email once order is placed. Larger sizes available upon request.  For further info please email Hello@shaadisuperstore.com.
Images for illustration purposes only. All items sold individually.