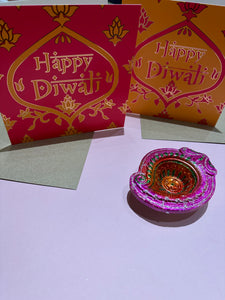 Celebrate the Festival of Lights in style with our exquisite Foil-Printed Diwali Greeting Card. This beautifully crafted card features an elegant lotus design, symbolizing purity and enlightenment, perfect for conveying warm wishes during this joyous occasion.
They come  in two enchanting colors, this card adds a touch of radiance to your Diwali greetings. The foil-printed details bring a gleam of sophistication, making it a truly special keepsake for your loved ones.
The interior of the card is left blank, allowing you to personalize your heartfelt message. Each card comes with a kraft envelope, completing the perfect package for sending your Diwali wishes in a thoughtful and stylish manner.
Share the joy of Diwali with this exquisite card, a token of good wishes and positivity. Illuminate the hearts of your friends and family with the brilliance of our Foil-Printed Diwali Greeting Card.
Set of 2