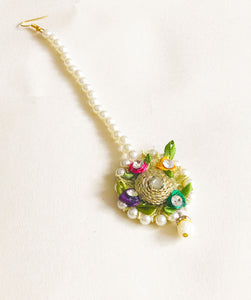 Beautifully handmade Tikka Bindi with a twine dome centre surrounded by multi coloured ribbon roses, gems and pretty pearl beads. This tikka is a stunning piece from the Chandermukhi collection.
There are other products also available to buy as part of this beautiful Chandermukhi collection. This includes Jhumki Earrings, Matha Patti and Ring.
This products has been particularly popular with 'Bride-Squad-Maids'.