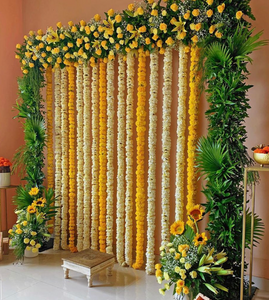 This vibrant and quirky stage is available to hire for your event. Here at Shaadi Superstore not only do we offer the products to buy but we also specialise in bespoke wedding and event decor set ups. 
With a combination of florals and artisan garlands this is the must set up for your pre wedding party.
Please note the price listed is an approximation of the hire.
Get in touch today and email us at Hello@shaadisuperstore.com for availability and an accurate quote which will take into consideration:
Event type
Location
Duration of event 
Extras (Cushions, Seating, props etc)
Travel
One of our decor stylists will be in touch to discuss with you your event further.
All stages are bespoke and can be designed to your colour scheme and theme. 
Please only purchase once an email confirmation has been sent from the Shaadi Superstore team Hello@shaadisuperstore.com